ZIPZOC Medicated Stocking
ZIPZOC is a sterile, single use, zinc oxide impregnated stocking which is used widely in wound management and dermatology to provide patients with an aid to the treatment of chronic leg ulcers, eczema, dermatitis, cellulitis and hyperkeratosis.
ZIPZOC works by forming a barrier on the surface of the skin which protects against moisture and irritants.
Where chronic venous insufficiency exists, ZIPZOC may be used as a primary contact layer under compression therapy systems**.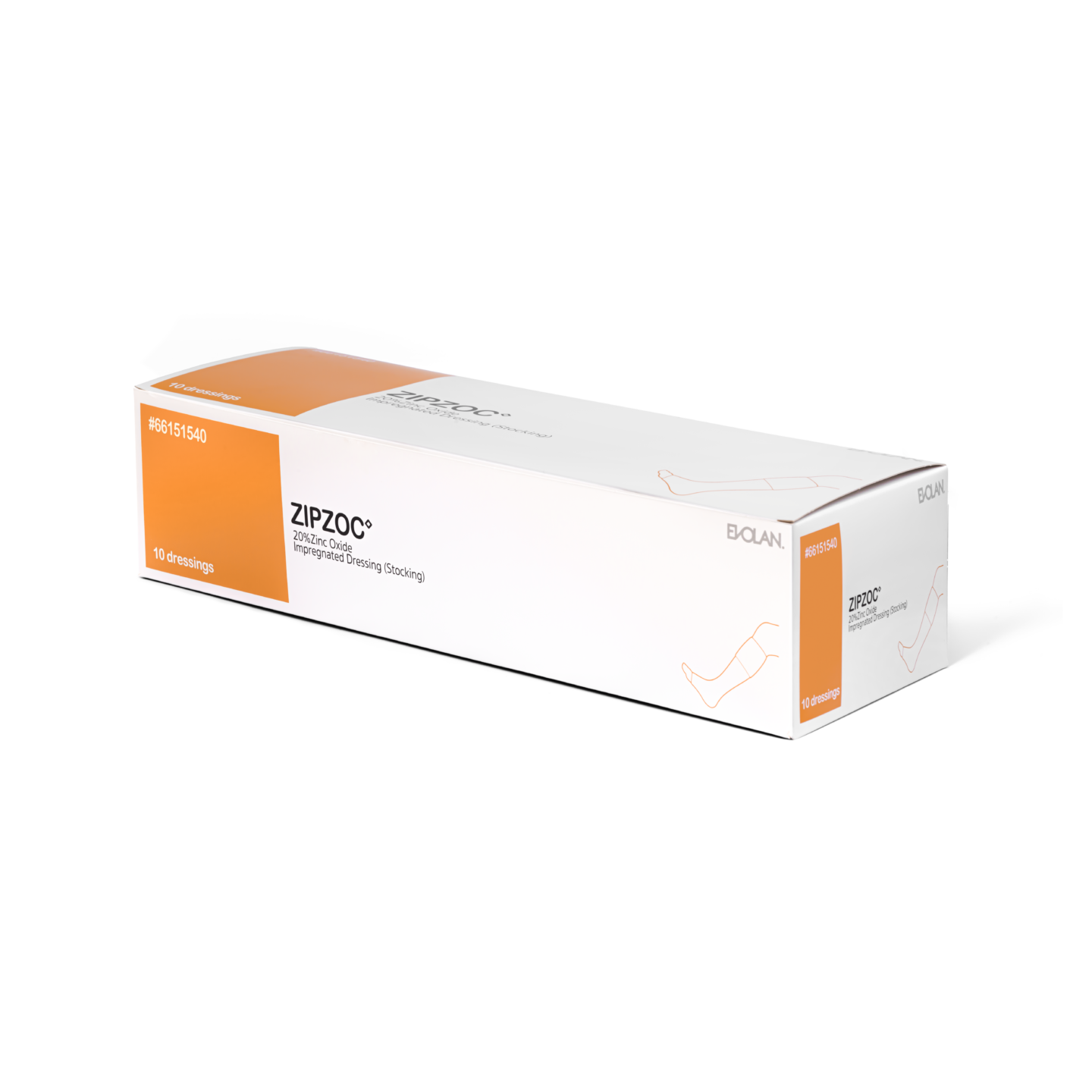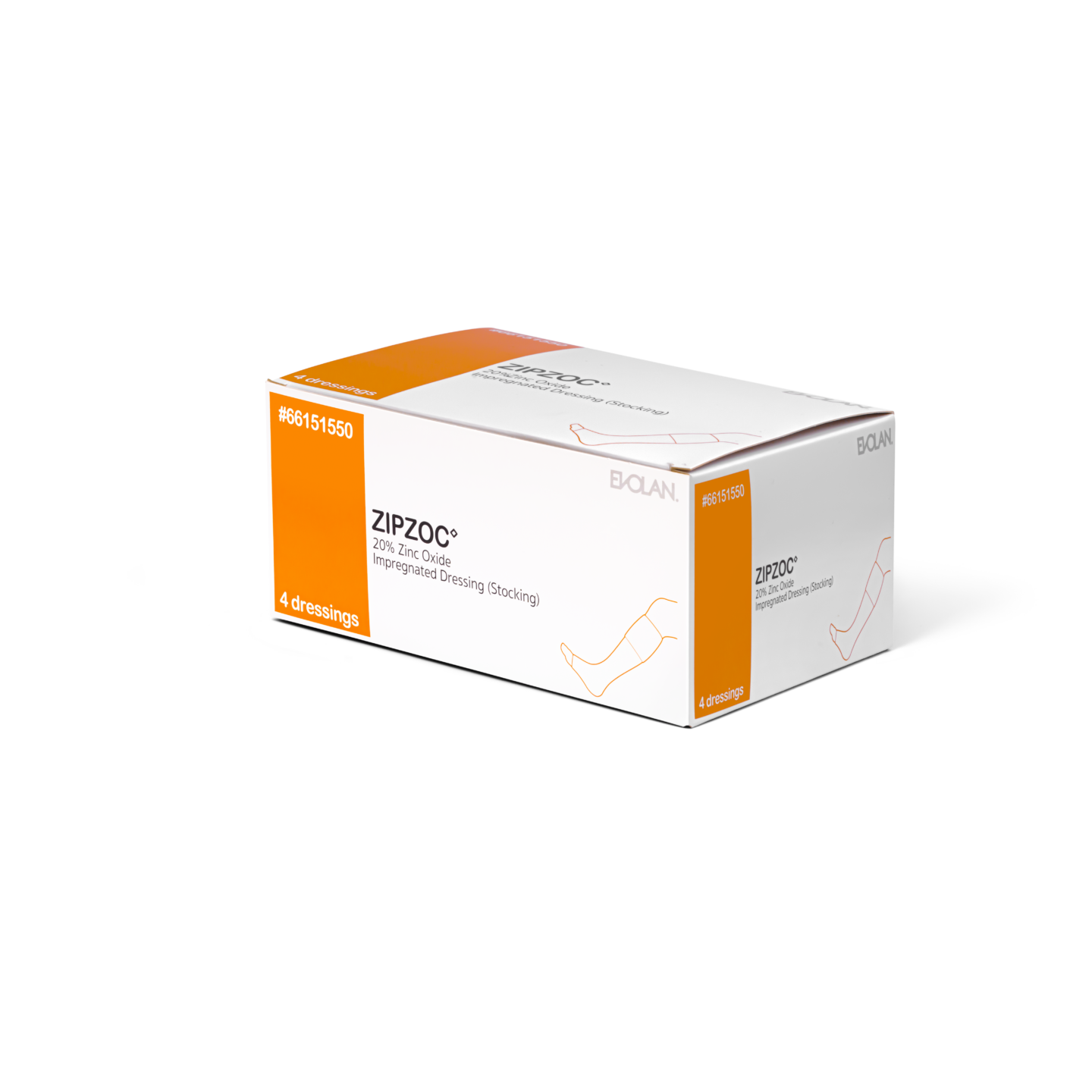 Patient Comfort
ZIPZOC contains 20% zinc oxide which is soothing to damaged skin.
ZIPZOC's preservative free formulation may reduce the risk of reaction for patients with sensitive skin.
ZIPZOC may only require a retention bandage over, which means that patients can wear their normal footwear.
Ease of Use
ZIPZOC's stocking presentation means that it is easy to apply and remove, therefore saving valuable time at dressing changes.
ZIPZOC contains white, soft paraffin and liquid paraffin so will not dry out or adhere to the wound if changed sufficiently frequently – this means that it can be used with confidence as a primary contact layer.
Ordering Information
| | |
| --- | --- |
| FP10 Drug Tarrif (UK only) | PIP Code |
| Zipzoc Stocking (4's) | 234-3739 |
| Zipzoc Stocking (10's) | 234-3747 |
| | |
| --- | --- |
| NHS Catalogue (UK only) | Code |
| Zipzoc Stocking | EFA 029 |
Quick and easy to apply
Low adherent
Preservative free
Soothing and comfortable to wear
Cost effective care with up to 7 days wear time
Currently available in UK, Ireland, the Nordic countries, New Zealand, Australia and Canada
**Always carry out a vascular assessment before applying compression therapy
ZIPZOC (zinc impregnated medicated stocking). Abbreviated prescribing information. Refer to summary of product characteristics before prescribing. Composition: A sterile rayon stocking impregnated with an ointment containing 20% Zinc Oxide. Each stocking (80cm x 7cm) contains about 41.5g of ointment. Therapeutic indications: Aid to the treatment of chronic leg ulcers and other associated skin conditions. Where chronic venous insufficiency exists, the medicated stocking can be used as a primary contact layer under compression bandaging or hosiery. Method of Administration: Because ZIPZOC is preservative free, it must be changed no less frequently than weekly. For topical application, ZIPZOC should be applied to cover the lower leg from the base of the toes to below the knee. All folds should be smoothed out. To protect clothing, a suitable outer bandage should be worn. If chronic venous insufficiency exists, ZIPZOC may be used as a primary contact layer under compression therapy and may be left in situ for one week, before re-application. Contra-indications: Arterial leg ulcers. Known hypersensitivity to zinc oxide or the excipients in the ointment. Special Warnings and Special Precautions: None known. Interactions: None known. Pregnancy and Lactation: There is no evidence to suggest ZIPZOC should not be used during pregnancy. Undesirable Effects: The skin of leg ulcer patients is easily sensitised to some topical medications. ZIPZOC contains no preservatives thereby reducing the risk of skin reactions. Reported reactions include, rash, erythema, itching and maceration of the wound edge. If the outer bandage is inappropriate or the medicated stocking is not changed with sufficient frequency it can cause the stocking to dry out. Excipients: Liquid Paraffin Ph. Eur. White Soft Paraffin BP. Incompatibilities: None reported. Shelf Life: 3 years. Storage: At or below 30 C. Keep all medicines out of the reach of children. Packaging: Polyethylene aluminium foil laminated pouches, each pouch containing a single medicated stocking. The outer carton will contain either 4 or 10 pouches. Legal Category: P Market authorization number: PL44616/0002 Date of first authorisation/renewal of the authorisation: 01 October 2006 Date of revision of text: 26 October 2018 Trademark of Evolan Pharma AB Date of preparation: October 2018